5 Gauge Mix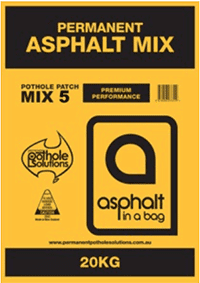 This 5 Gauge Mix is a ready-to-use pre-mix bituminous mixture is manufactured from selective aggregates, bitumen and a co-polymer creating a tenacious bonding material for permanent use and repairs. The curing is activated by impact and it will bond to asphalt, concrete, steel and even wood.
Asphalt in a Bag is an all weather road repair solution. It can be applied at -26 degrees Celsius and will perform just as well during hot and rainy days at temperatures reaching 49 degrees Celsius.
Asphalt in a Bag permanent cold patch, when applied according to the manufacturer's specifications is guaranteed to adhere permanently to the repaired area or until the surrounding pavement area fails. If Asphalt in a Bag ever unravels or releases from the repaired area we will replace the asphalt without any service charge.
Asphalt in a Bag is an easy to use and effective means of performing road and pothole repairs. Asphalt in a Bag is available in a number of convenient sizes.
1 x 20kg bag of Asphalt in a bag Permanent Cold Patch will cover approx 1⁄2 a square metre at 22mm thickness.
No Tack Coat Required, Drive on it immediately.
This is a premium grade product suitable for all purpose usage. It is distinguished from the High Performance by the amount of "Fines" it has in it. In the Premium Performance there are 87% "Fines" (cone dust powder sand). These fines fill the gaps between the gravel.